deano87
Member

Registered: 21st Oct 06
Location: Bedfordshire Drives: Ford Fiesta
User status: Offline

| | |
| --- | --- |
| 22nd Jan 11 at 08:02 | |
---
These headlights: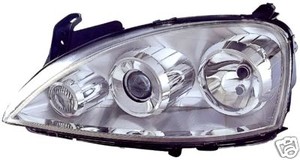 Of course the Corsa has the headlight adjuster for when the vehicle is fully laden. When the adjuster is in position 0 for normal driving, the headlight is continously moving up and down slightly, and you can hear the motor at work.

When you put it in positions 1, 2, 3, it doesn't make the noise. I thought they were self levelling lights, but it does it when the vehicle is on the flat.

Considering it does move and make the noise in positions 1, 2 or 3, would that indicate the switch is nackered, or are we talking adjustor motor?

Or is this indeed normal on the headlights?




EDIT: Just realised it's only the drivers side headlight which would point towards a dodgey motor, wouldn't it?

[Edited on 22-01-2011 by deano87]
Mertin
Member

Registered: 12th Oct 05
Location: Scotland
User status: Offline

| | |
| --- | --- |
| 22nd Jan 11 at 10:43 | |
---
Could you not just leave it in position 1, wont be much difference from position 0 is it and not blinding people?
deano87
Member

Registered: 21st Oct 06
Location: Bedfordshire Drives: Ford Fiesta
User status: Offline

| | |
| --- | --- |
| 22nd Jan 11 at 13:01 | |
---
No wouldn't blind people as it'd be lower than 0. Just an annoyance.

I reckon it's the motor.