cavmad
Member

Registered: 25th Feb 06
Location: Fucking annoying, unfunny, twatbag cavmad *racist
User status: Offline

| | |
| --- | --- |
| 27th Apr 11 at 19:55 | |
---
Make - Vauxhall
Model - Astra
Engine - 1.4
Mileage - 90,000
Price - £595 ono Price drop to £495 ono

Location - (same as my profile)
Contact phone number - U2U me
Contact email address - U2U me.

General information -
1997 Vauxhall Astra 1.4LS.
12 months MOT, tester said it was the cleanest he'd seen in ages!Five door.

*6 months tax*

Power steering.
Central locking.
Sunroof.
CD player.
Only 90,000 miles.
Just been valeted inside and out, this car is absolutely gleaming. Quite probably the cleanest car on here.
Starts first time, engine runs like a Swiss watch and is very quiet.
Just replaced fog lamp and power steering pipe.
Very cheap to run, tax and insure.
Bodywork in lovely condition, I doubt you'll find a nicer one.
Interior is extremely tidy too.
Even the alloy wheels are mint!
Very good tyres.

Known faults:
Grille surround doesn't quite sit right.
A couple of shallow dents but you've pretty much got to look for them.
One tyre is low-ish on tread so will want replacing reasonably soon but it's still legal.
That really is about it, you need to see this car to appreciate it's condition. It's not the usual tired out, thrashed to death rusty old heap, it's far above avearge for it's age and the new owner will love it.

Pictures don't do it justice, this car really needs to be seen...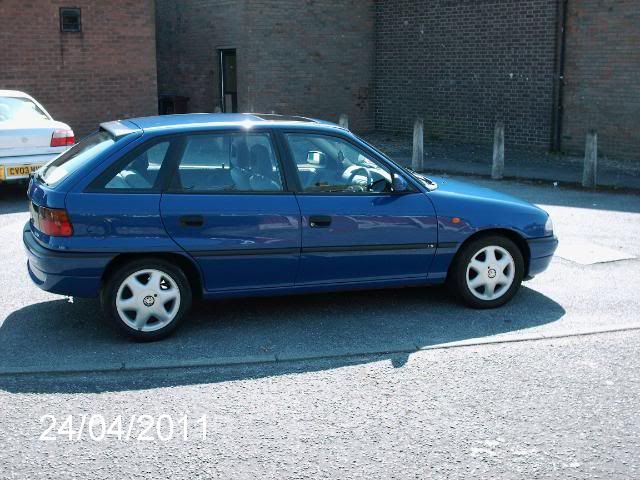 £595 or try me with an offer. Car is located in Chester, Cheshire. Very close to M53/M56/A55/A41/A56 and within easy reach of the M6 North and South.
For sale until deposit or full payment received, I cannot hold onto it for ages until you get your paper round wages/methadone/dole money/whatever. I will keep it for a short while once a deposit has been received though.

*If you live miles away feel free to ask anyone you like to come and have a look at it on your behlf and report back to you in private. I have nothing to hide and I don't do people over.

I honestly don't think you'll find another one like it.

Ps: not the cheapest Mk3 Astra out there I know but you won't find a nicer one at this money that's for sure.







[Edited on 27-04-2011 by cavmad]

[Edited on 30-04-2011 by cavmad]

[Edited on 02-05-2011 by cavmad]